These acrylic painting lessons are a good craft for kids.
Craft for Kids
Painting is a good Craft for Kids. – Free tutorial Videos.
Some tutorial videos are just perfect for getting Kids started with their paintings.
Here are a few tips on teaching Kids to paint.
By 'kids' I mean from toddlers up.
Painting lessons for children.
Be prepared for the mess.
Have plenty of clean rags ready and maybe a sheet of plastic on the floor.
Place the paint on a palette or in shallow troughs (plastic take away food containers).
Do not have the paint in jars as the students might dip their brushes too deep.
Ensure the students are wearing old cloths or an apron.
The canvas or art board may be placed upright or flat.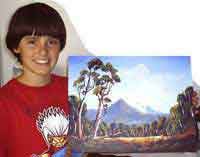 Have plenty of space to put palette etc.
Don't put palettes on chairs as someone might sit on them.
Use acrylic paint, student quality is best, junior quality is ok and cheaper, it is a bit runnier.
Acrylic paint these days is usually nontoxic.
Some people can be affected by non-smelling paint fumes.
All paint omits fumes while being used and while drying.
Have fresh air – this is important..
It is not a good idea to allow paint to enter your body by the skin, this does happen.
Try and avoid paint being on your skin, this includes nontoxic paint.
Smaller children might touch their eyes with fingers carrying paint.
Smaller children always need supervising while they paint.
Some Kids have never learned how to use a brush and need more time than others.
Encourage the student to load the tip of the brush and to look at the tip of the brush to see if it is loaded correctly.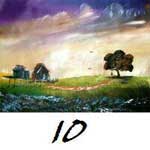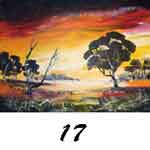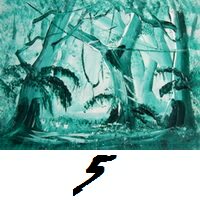 Click an Image to View a Free Craft for Kids Lesson Many beginners force the brush too hard onto the canvas, this should be discouraged.
"Because children relax when painting, they sometimes paint amazing pictures, even their mistakes can be beautiful.
I see this relaxed attitude in paintings from children and from the very old artists, I think they do not compete like middle aged persons". Len Hend.
Here are a few tutorial video painting lessons which make a great graft for kids.
They are short lessons and may be played over and over while the Kids do their painting. The sound may be turned up or down as required.
See a Full List of Free Video Painting Lessons and How-To Paint Items Exercises – Any of the painting tutorials on this website are suitable Craft for Kids.
Go to – Frequent questions
by Len Hend