Here you can ask questions about painting.
Frequently Asked Questions About Painting
To ask questions about painting you can use the comments area at the bottom of this page and I'll try to help as soon as possible. Cheers – Len.
The TIPS page contains much basic information about getting started.
Questions often asked about learning to paint
Can anybody paint?
Any person with the desire to paint can produce an attractive painting by following Len's online lessons or tutorial DVDs. It is not necessary to compete – paint for your own pleasure.
Can I sell my paintings?
If you copy my paintings, sure you can sell them, they are yours to sell. I have no copyright on my arrangements, but I do have copyright on images of my original paintings and copyright on my DVDs. Len Hend
Does Len Hend hold classes.
I do not hold classes but I never miss an opportunity to teach so if you happen to be in Chiang Mai then look me up.
I have a modern bungalow for visitors.
What is Oil or Acrylic?
Oil paint is thinned with TURPS or other oil based mediums, Acrylic paint is thinned with WATER. Brushes etc. are cleaned with TURPS or WATER respectively. Oil paint can take days to become touch dry, Acrylic paint becomes touch dry within minutes or hours. Oil painted can be placed over dry Acrylic paint ( Oil over Acrylic is common ), Acrylic paint will not stick over Oil paint.


Which paint should I use?
These days the quality of Acrylic paint is excellent, OIL or ACRYLIC paint can produce the desired results. Therefore a beginner can practice the brush strokes using the easy to clean-up and less expensive Acrylic paints before moving onto the Oil paints, or you may wish to continue with the Acrylic paint.
What brushes do I need?
Each DVD will show you a full list of brushes. We do not need special brand or expensive brushes. A few different sized round and flat hog bristle brushes, a fan brush, a little soft hair brush for the thin branches and a cranked painting knife is a good start. On large paintings a 1 or 2 inch house painting brush is useful.
Go To Page with Video – About Brushes.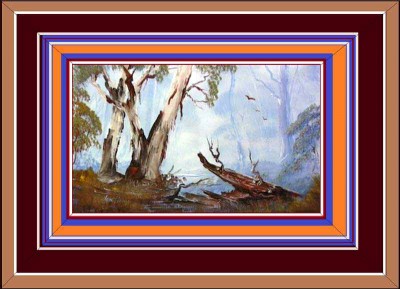 What should I paint on?
Prepared or pre-primed artist canvas is the perfect surface for painting landscapes. This comes by the yard or stretched on a wooden frame or glued to cardboard. Beginners may wish to practice on any smooth primed surface, such as particle board (Masonite, plywood, custom wood) under-coated with acrylic house paint.
What colors do I need?
Each DVD will show you a full list of colors required.
Here are the color in Len's art box: White (for oils use the titanium white), Burnt Umber, Cobalt Blue, Phthalo Blue, Prussian Blue, Ultramarine Blue, Cerulean Blue, Warm Yellow (or cadmium yellow deep), Crimson (or cool red), Warm Red (or vermilion), Burnt Sienna, Raw Sienna, Viridian, Phthalo Green (or Prussian green), Indian Yellow (or Australian sienna, Australian red gold)
Can I order DVDs by Post?
If you wish to order by post (mail), post a cheque or money order to Len Hend at 1935 Coolamon Scenic Drive, Mullumbimby NSW, Australia 2482. Your DVDs will be posted as soon as order is received.
How long does POST take?
DVDs are posted as soon as payment is received. Post in Australia takes about 3 to 7 days. Overseas post takes 1 to 3 weeks.
Can I share my DVD lesson?
PaintWithLen Tutorial DVD Videos are subject to copyright and must not be copied or duplicated by any person without the written consent of Len Hend.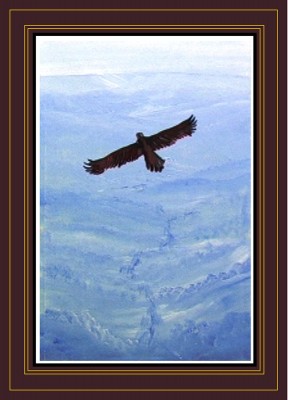 Len is happy for you to share the Tutorial DVDs with friends or art groups. If you need extra copies of PaintWithLen Tutorial DVDs for any reason, (e.g. retirement home, public library, art groups, benevolent institution) please contact Len Hend, he will adjust the price accordingly.
Questions from a young painter.
Len, I have recently discovered you and your teaching DVD and really clicked!
I am using your speed painting DVDs to learn to paint landscapes and there from lesson one you advise using pallet knife to put the gum trees in as well as few other things.
However today I found you quick tutorials on
paintwithlen.com and there you use paint brush loaded with two colors rather than pallet knife.
Should I continue with the original approach (knife) could you please clarify this. In addition what kind of acrylic paint should I use?
Previously I used cheap Mont mart acrylics with my experiments. But I understand that it is not good enough so I got Atelier, I am still not 100% used to it, since different colors have different textures but I think it is better is some respects.
Since I am a very beginner student and repeat every class in DVD 3 times I will probably go through a lot of paint and Canvas paper. What Canvas brand is affordable but good quality and low maintenance, pre primes? I hope my questions are not too much, but I am very excited about your work and approach.
I know that you are in Thailand now, hope you have a good time there. Thank you very much,
Yvette
Answer from Len
Yvette – You may use knife or brush it is up to you. I think you should learn to use the knife but when you really wish to paint well it is better to use the brush for the tree trunks. The knife happens to be a lot quicker when you get good with it (speedpainting) – I think the brush is a better look.
As you have now realized painting is a skill and it does not matter what type of paint you use when learning the skills. Painting the windows of your house, or the garden shed will all increase your skills with the brush.
If you have learned the bad things about cheap paints then you will see the difference when you move onto the more expensive tubes. But you do not need to use all artist quality paint. Some colors are OK in student quality – white, burnt umber, warm red, raw sienna – might be ok.
So start by trying an artist quality blue, then crimson, then a warm yellow. (remember that is the yellow that looks more like an orange than a lemon). Artist quality burnt sienna is useful and Australian sienna or red gold is great to use.
I like Matisse brand some colors are too expensive for experimenting so use a similar color, say instead of cobalt blue use a less expensive but similar artist quality blue. You will notice that it will take less paint to put a blue tone into the white undercoat of the sky.
After painting on canvas you now know how the paint should flow etc. So now if wish you can experiment with hardboard for practicing on. Give it a good coat of acrylic house paint and let it dry. You can paint in oils or acrylics on dry acrylic paint. Hardboard is Masonite or custom wood, cupboard backing or ply. Saves a few dollars.
cheers and happy painting Len
Complete training DVDs are available at PaintWithLen/shop
Go to – Feedback
by Len Hend