How to Paint a Shed – 20
Another loosening up exercise for beginners painting in oil or acrylic.
The colors for this monochrome painting – Burnt Umber and White.
Watch the full lesson here for free – Or download the video to your PC for $2.
Take your time, I will show you how to paint a shed in mono color, it is simple.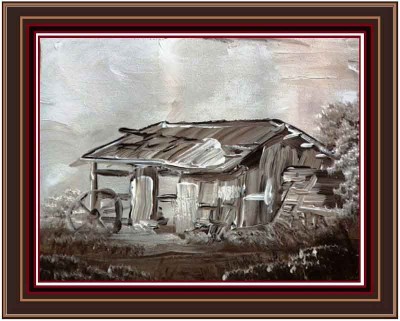 To paint this little shed you will need a few brushes (about 1/2 inch wide flat hog bristle brush, fan brush, little fine soft hair brush), some white and dark paint, an art board or canvas (or anything you can find), cleaning rags and somewhere to relax and paint. Paint in Oils or Acrylics. (or any paint)
You might like to use Blue and White or any other dark color and white. One color and white is called monocolor or monochrome:- When painting pictures in monochrome you quickly learn to use the brush without becoming confused with color. We also see how the different tones give us depth in our paintings. Follow this short video.
Here the things you need to try and do.
Keep your background white.- Keep your corners dark.- Hold the thin brush with one finger and thumb for the fine lines.

Go To – How to Paint Gums and River – lesson 21
by Len Hend