Paint boats and reflections in oils or acrylics.
Paint Boats and Reflections in Oils or Acrylics
How to paint reflections and boats beginners painting in oils or acrylic
Beginners can now Paint Boats and Reflections Scene
The colors needed are white, ultramarine blue and warm red (warm red is fire engine red or cadmimum red)
This painting is a popular lesson as it is simple to paint in oils or acrylic and requires only two colors and white.
The demonstration painting shown on the tutorial is 14×10 inches (350x250mm) acrylic on canvas.
You can paint this scene any size.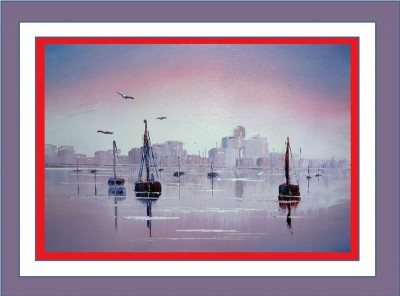 Do not try to copy my arrangement exactly, but try to paint a similar arrangement taking advantage of the 'making it up as you go' attitude and leaving the good brushstrokes while covering the not so good brushstrokes.
You might need to try several times to get your background colors blended with the dark in the corners and white in the middle.
Once your background of the sky and the water is complete then there is no reason to go back over it, in fact you might let the paint dry before proceeding if you wish.
If you paint your boats small then you can correct them without them becoming too large.
Think about where to put the boats – balance your arrangement and do not put a big boat way back in the water.
One more point, keep your horizon line low. ('horizon line' is where the sky meets the water) The ideal place to put your horizon line is about one third up from the bottom of the picture and definitely do not put the horizon line across the middle of the picture (half way up – not good)
Here is a newer video of this lesson fr Len Hend live streaming.


Go to – Paint in Black and White
by Len Hend