What to Buy when Starting Painting Lessons in Oil or Acrylic
Here is a short list of what to buy when starting painting.
You may wish to paint in oils, I now paint in acrylics.
Colors, brushes, painting knife, canvas, palette, cleaning rags and turpentine if painting in oils.
The list of what to buy for starting painting lessons is the same for oils and acrylics.
Colors
Burnt umber and white is all you need if you will be starting with the mono color (brown) lessons.
White,
You need a lot of white. Titanium white for oils. Any white for acrylics.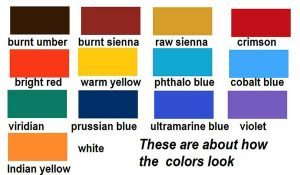 Burnt umber,
A lot needed if starting with mono color lessons.
Cobalt blue,
A lot of this color is needed.
Warm yellow,
A lot of this color is needed. Note, Warm yellow is any yellow that looks more like an orange than a lemon.
Crimson,
A lot needed but not as much as the 2 above.
Raw sienna,
Not A lot of this color is needed.
Burnt sienna,
A little of this color needed.
Warm red,
A little of this color needed. Note, Warm red is any 'fire engine' red.
Viridian green,
A very little of this color needed. Phthalo green may be used.
Phthalo blue,
Not A lot needed. May only be available in 'artist quality'.
Indian yellow.
Not A lot needed. May only be available in 'artist quality'. Australian red gold or Australian sienna are better and usually more available.
Information about thinning your paint.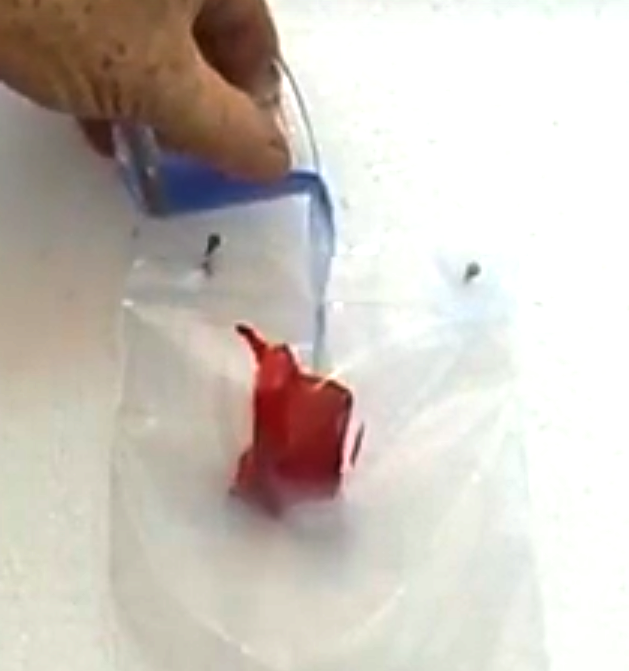 Additional colors
These colors are not necessary for starting painting lessons but are mentioned in the Paint with Len lessons.
Phthalo green.
Great for mono color forests and can take the place of viridian green.
Cobalt violet.
Great for mono color scenes and foliage for jacaranda trees.
Prussian blue,
Can be used for moonlight scenes.
Ultramarine blue,
Can be used in place of cobalt blue to give warmer tones.
Indigo blue,
Can be used for mono color blue black paintings.
Black can be used in mono color paintings.
Do not buy any colors in the junior quality paint, it is too runny.
Use student quality paint when starting painting lessons in oil or acrylic.
Some colors will only be available in the more expensive artist quality paints.
I now use acrylic paint because it is cheaper, less smelly and easier to clean up.
You need to decide if you will be painting in oils or acrylics.
Brushes,
No need to buy expensive brushes.
Fan brush,
Medium size, must be the firm bristles type, the soft bristles ones are very soft and not suitable.
Flat brush,
Common house painting brush.
1 or 1-1/2 inch. Later you may need a 2 inch flat house painting brush for larger paintings.
Nylon brushes are okay.
Round hog bristle brush,
As big as you can get, that is about a 1/2 inch diameter feral, not the pointed one, the blunt ended bristles is better. The pointed ones can be cropped with scissors. (unavailable in some countries so a 3/4 inch common house painting brush will do just as well)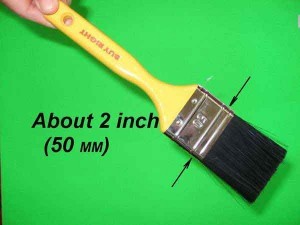 More about brushes
Flat hog bristle brushes,
Say 2 brushes, quarter inch and half inch wide bristle area, these are common with white bristles.
Fine hair brush,
For little twigs, not too small, about size 5.
Different brands have different sizes but most sizes are useful.
A cranked painting knife.
Palette
You need something to mix the paint on.
A tear off palette pad is ideal, or a wooden palette, a piece of glass or a wall tile.
Canvas
The first choice is prepared artist canvas, prepared means primed ready to go (undercoated on one side before you buy it, usually white) or canvas streched on a frame, or canvas panels (thin canvas on thick cardboard).
You may also use partical board undercoated with white acrylic house paint.
Best sizes for art panels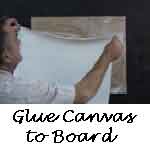 [more about canvas]
Or canvas pieces:- 9×12, 11×14, 12×16, 14×18 inches are good sizes to start but any similar size will be ok.
If you are slicing up loose canvas then leave about 1 1/2 inches all round and mask off the area to be painted with masking tape.
And don't forget
You will also need, rags, water or turps, something to steady and hold your painting.
Wear old cloths, sit or stand comfortably and have good lighting and fresh air.
Beginners will benefit from reading the TIPS PAGES Tips –
Be an Artist – Arrangement – Tones – Paint Dries Fast

DVDs are available online.
Get your complete collection
of painting tutorials
70 videos on 12 DVDs – $70
includes postage worldwide.

Neat carry case included.