Paint Like a Pro. with Len Hend
These 70 video tutorials are on the $54 usb flash drive.
All Painting Lessons are For Oils or Acrylics.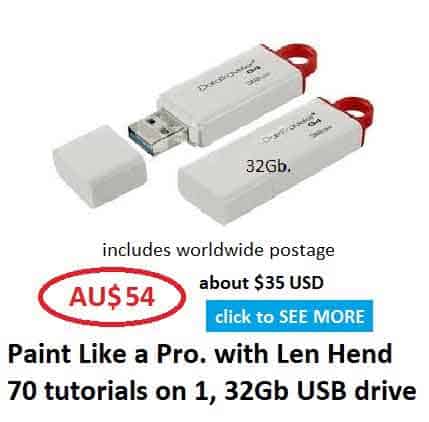 This is a complete course where you learn how to paint from the very beginning and progress to the finer and more advanced paintings.
During the course you are also shown how to paint your own arrangements and not just to copy other paintings.
Painting is an acquired skill, by following the clear instructions you will gain the skills quickly without spending years wondering how, or practicing bad habits.
These lessons are available at a very reasonable price.
……….
A personal note – My first teaching videos were released on VHS video in 1981. I was the first in Australia and possibly the world to produce how to paint lessons on video.
One of the main reasons I went ahead with making video painting lessons is because many so called teachers said it could not be done, I knew different.
Many thousands of my video lessons have been distributed around the world and I have never had a complaint that they don't offer value for money.
I have always kept the price of my lessons low and extremally low compared to some teachers.
Some people are not in a position to purchase my lessons so I have ample free lessons available here.
My aim has always been to encourage people of all ages to discover the joy of painting.
Len Hend.