Start Learning to Paint Here for Free
Free painting lessons for beginners. Landscapes in oils and acrylics. Short tutorial videos.
These
painting lessons
are the modern method of learning to paint landscapes in acrylics and in oils.
Here we learn from simplified video tutorials how to use the techniques with brush and knife.
From the tips pages you are learning about arrangements, tones of colors and perspective.
To make the most out of the painting lessons it is wise to paint lots of simple little pictures before attempting your masterpiece.
Learn to master to tools and do not try to paint your masterpiece until you know how to paint.
A little practice and knowledge will improve your landscape paintings greatly.
No previous painting experience required, have a go, you will amaze yourself with these free painting lessons.
All these lessons and more are also available on dvd for learning off line.
The full collection of 70 lessons on 12, 2 hour dvds AU$70 includes postage.
– SHOP –
Privacy Policy
by
Len Hend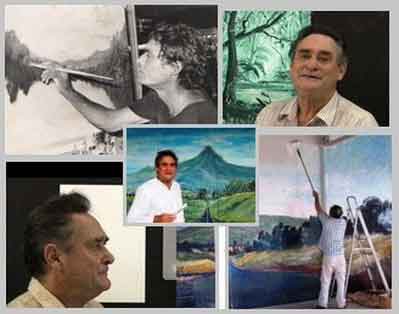 So much information for you to learn to paint
Below you will find a list of topics and links to my pages of information about learning to paint.
Information about paints, brushes, tips, techniques and much more.
If there is something missing which you wish to know – I will be glad to hear from you.
Cheers and happy painting from me – Len Hend.