Free Painting Lessons for Beginners.

Learn to paint here for FREE All lessons are suitable for oils or acrylics
Paint complete pictures or learn techniques

Hi! – I'm Len Hend – Australian Landscape Artist and Art Teacher, I have been an art teacher for nearly 40 years and I know how to get you started with easy brush strokes that will produce stunning paintings in one sitting.
These free online painting lessons are suitable for beginners and artists painting in oil or acrylic. I will show you how to go about teaching yourself to paint landscape pictures.
Relax and enjoy the easy to follow video demonstrations, there are 29 full paintings and 9 how-to lessons plus pages of tips and tricks for painting in oil or acrylic.
We use a wet-on-wet loose painting technique which is easy and fun to learn.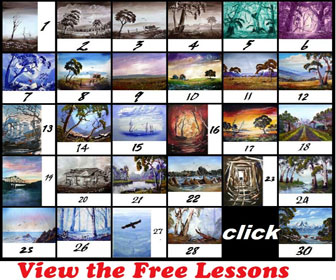 Go to -
Each free painting lesson has a short tutorial video and text information with easy to follow instructions.
Thousands of hobby painters have found Len's teaching style to be simple and easy to understand.
Some well known TV painters have learnt much from the 6 SpeedPainting lessons which Len first released on VHS video in 1980.
You can read more about Len and his lifestyle at lenhend.com
More paintings to look at and copy lenhend.com/images-art/
Please feel free to use the 'Contact' page if you wish to comment or ask a question.
---
April 2014 – All DVD prices now reduces
---
THE COMPLETE SPEED PAINTING SERIES ON DVD
12 progressive lessons
No previous painting experience required, down to earth easy to follow step by step instruction. List of colors and brushes on the video.
This DVD set makes a great gift for beginner and established painters
– Most Popular
- 4 DVDs
- 12 paintings
- Four hours of tuition
- Wide screen
- High quality video and audio
- $49.50 includes postage to any country
- Money back if not completely satisfied
Special Offer $49.50  includes postage and packaging to any country
---
Also available
ADVANCED PAINTING LESSONS ON DVD.

For prices and special offers – visit the SHOP