. . . Free Painting Lessons for Beginners.
You can learn to paint here for FREE,
All lessons are suitable for oil painting or acrylic painting
You need no previous painting experience – your first painting will be a success
Just follow the easy instructions and short video.
"I enjoy teaching for free"
You can paint complete pictures and learn painting techniques here for free
These free online painting lessons are suitable for beginners and artists painting in oil or acrylic.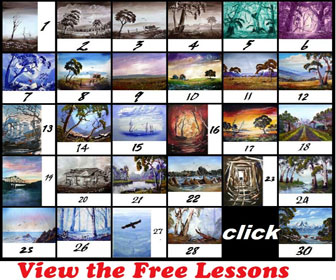 Get started with any old paint and upgrade as you learn.
Start painting with easy brush strokes and you will produce stunning little landscape pictures in one sitting. (see the first few easy lessons)
You will instantly see how to go about teaching yourself to paint landscape pictures.
Painting is not a gift, it is an acquired skill, an easy to learn skill.
Relax and enjoy the easy to follow free video demonstrations, take your pick, there are 34 full painting lessons and 9 how-to lessons plus pages of tips and tricks for painting in oil or acrylic.
You will use a wet-on-wet loose painting technique which is fast and easy to learn.
Check out any of the free lessons and see how easy it is to follow the brush strokes – soon you will be painting your own scenes.
While enjoying painting you will also be learning about canvas, brushes, paint, colors, tones, perspective, arrangement and many tricks and tips to better your skills and painting knowledge.
Go to -
Many lessons are now available on DVD – see the SHOP
You can read more about my lifestyle at lenhend.com
More paintings to look at and copy lenhend.com/images-art/
Please feel free to use the 'Contact' page if you wish to comment or ask a question.
---
April 2014 – All DVD prices now reduces – Shop
---