Learn to paint brilliant sky in oils or acrylics
Paint Brilliant Sky
You may paint a brilliant sky in many sizes or shapes or colors
Paint a sky that glows
Any medium can be used, oil, acrylic, water color, pencil, crayon.
The secret for how to paint brilliant sky is the dark corners and the brilliant center of the painting.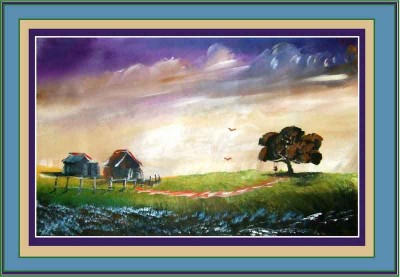 Len is painting in Acrylics; you may wish to paint this scene in oils. A fun painting lesson of a sunset with two points of interest, the tree and the buildings. Here we paint a brilliant sky and then come forward with warmer and deeper colors to give us lots of depth.
Follow this tutorial video showing how to paint brilliant sky. – Take your time painting the sky, ensuring you retain the white glow coming from behind the horizon. – Keep your horizon low with plenty of sky. – Try and retain the gentle curve of the horizon. – The foreground can be blocked in with dark tones before adding the highlights. – This painting may be ideal for a child's room.
Go To – How to Paint Outback Ranges – lesson 11
by Len Hend