Paint Brilliant Sky
Paint a sky with depth that glows.
This lesson is for in oils or acrylics.
You may paint a brilliant sky in many sizes or shapes or colors
Any medium can be used, oil, acrylic, water color, pencil, crayon.
The secret for how to paint brilliant sky is the dark corners and the brilliant center of the painting.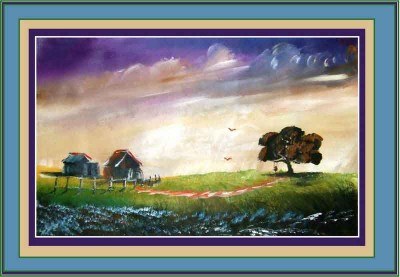 Len is painting in Acrylics; you may wish to paint this scene in oils.
A fun painting lesson of a sunset with two points of interest.
The tree on one side and the and the buildings on the other.
Here we paint a brilliant sky and then come forward with warmer and deeper colors to give us lots of depth.
Follow this tutorial video showing how to paint a brilliant sky.
Take your time painting the sky.
Ensuring you retain the white glow coming from behind the horizon.
Keep your horizon low with plenty of sky.
Try and retain the gentle curve of the horizon.
The foreground can be blocked in with dark tones before adding the highlights.
Do try for dark , big foliage in the foreground which will give great contrast with the brilliant sky.
Use a cool blue for highlights on the foreground foliage.
Don't have the horizon on or above the middle of the canvas.
By placing the tree on the ridge line you will add to the 'story' that the painting tells.
This painting may be ideal for a child's room.
Here and the colors to get you started
White, if painting in oils titanium white.
Violet
Prussian blue
Orange
Viridian green
Raw sienna
Warm yellow.
You may Comment below.