How to Paint Clouds

Below is a short video lesson showing how to paint clouds the easy way.
I have found this lesson not only useful for artist or the amature painter but also for the model train enthusiest when painting background scenery.
Paint sky and clouds in oil or acrylic
Easy to Follow – Step by Step Tuition.
Videos – Clouds, Mountains and Water may be Downloaded FREE
PAINT CLOUDS
Painted clouds come with practice. Most established landscape artists have a certain unique style about there clouds. You can practice clouds on scraps of canvas and become familiar with the brush strokes and the colors used to give the clouds the required shape.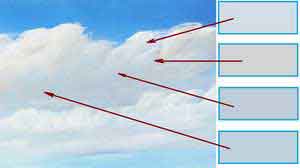 Paint an undercoat in the color of your sky, remember to blend your sky from dark at the top to very pale at the bottom. (white even) Then you can paint your clouds over a dry sky or paint wet-on-wet. Keep the clouds big, at the top of the sky and smaller, in the distance. A grey can be mixed using Cobalt Blue, a little Crimson and a very little Raw Sienna.
This short video is one of three lessons on the FREE DOWNLOAD
A golden glow is produced by adding the littlest tint of Burnt Sienna to the white at the top of the clouds. You must keep your grey tones soft; there is very little tonal difference between dark and light clouds.
A short video tutorial showing how to paint clouds in oil or acrylic.
Complete training DVDs are available at PaintWithLen/shop
Go to How to Paint Mountains

by Len Hend