Paint Gum Trees
Paint gum trees in oil or acrylic.
Every Australian artist likes to know how to paint gum trees.
We are now painting in mid-day colors
Any medium can be used, oil, acrylic, water color, pencil, crayon.
Do try to keep the background and foreground colors separated.
Do not put Warm Red in the background or Cobalt Blue in the foreground.
This free lesson is for painters using acrylics or oils.
Notice the gentle curves on the mountains and tree trunks, the same curves are seen at ground level. These curves are pleasing to the eye.
You may wish to practice curves that become straighter and straighter but never becomes a straight line.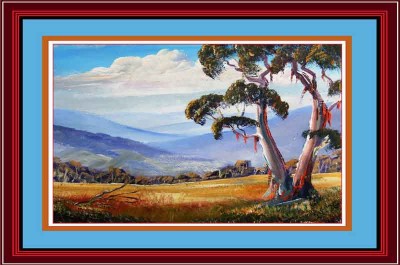 When you learn how to paint a gum tree you will use the same painting techniques to paint all your gum trees, that is, the painting technique remains the same but the size, shape and color of your gum tree may vary.
Watch this short tutorial video and see how to paint a gum tree. Gum trees will lean towards the sunlight and often over hang a river or road in their quest for sun light.
You may notice gum trees when in an open area grow out and cover a wider area than the same tree species growing in a forest, the forest trees grow up with long trunks, especially if the forest is on the side of a mountain or hill which does not have direct sunlight.
The tree in this painting looks like a Black Butt but it is not true representation of any particular species it is just my interpretation of a gum tree.