How to Paint Ghostly Scenes
This is a painting with mood – spooky.
Here are a few ideas on how to paint ghostly scenes.
You may paint ghostly scenes in many sizes or shapes or colors.
For the thirteenth exercise here we learn how to paint ghostly scenes or spooky scenes.
The three main colors are Phthalo Blue, Crimson and Raw Sienna. If you are working in oils, use Titanium White. We add a little Warm red during the final brush strokes. Keep your horizon low so your building can reach well up into the sky. The lower sky should be very bright. Arrange the painting so as each object will carry the viewer's eye into the picture.
Block the objects in with definite brush strokes. Keep the background pale.
Use bigger, darker brush strokes in the foreground. Do not detail the edges of the painting, any detail should be in the middle with loose brush strokes around the outside of the painting, this again will keep the viewer focused into the middle of the painting. You may wish to take your time and sketch your design before adding paint.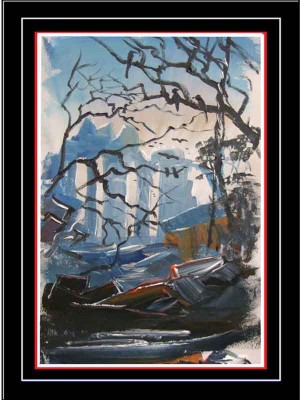 With the pale misty background. chunky darker fallen building blocks and jaged twigs on the protruding branches we can easily create a spooky or ghostly scene.
The jagged branches will look like claws.
The picture can be any size or shape. Or try making up your own arrangement but do keep the bold deliberate brush strokes. Follow the video painting lesson for how to paint a ghostly scene.
You may Comment below.