How to Paint Sky
Learn how to paint any sky in many colors.
The lesson here is for oils or acrylics, you can use either.
Here we learn how to paint a sky and then you may finish the painting as you wish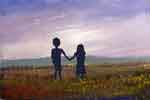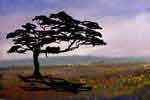 This exercise is an open scene; after the exercise is finished items may be placed into the landscape in silhouette form.
When doing this you will be able to place the item or items where ever they look good without covering the good bits of the background.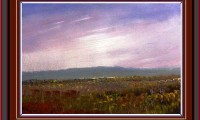 By cutting the silhouette out of black paper you can hold it near the painting and see how it looks in various positions before painting the image onto the painting. Do not use Black to paint your images, mix a dark color from your Blue and Crimson but be sure no White gets into the mixture.
When you are finishing the painting of the sky, keep all your brush strokes in the one direction (across and slightly up).
It is best to use the paint straight out of the tube but if necessary a small amount of thinner may be added – do not use linseed oil when thinning your oil paint, best to use turps or kerosene to produce a creamy texture in your paint – work with a dry brush and wipe the brush clean often.
Finish the lower, brighter part of the sky before adding the darker colors into the top of the sky, we do not want the Blue on your brush to get into the lower sky. View the tutorial video to learn how to paint a sky.
You may Comment below.