Paint Leaves or Foliage on Trees
Paint leaves on trees in oils or acrylics.
Easy to Follow – Step by Step Tuition.
We see here how to paint leaves on trees with a double loaded brush and the wet-on-wet, loose method.
I am painting gum trees however this method of painting leaves may be used for any trees of any colors.
Painting leaves on trees in oil or acrylic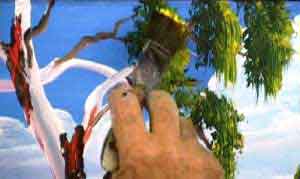 Practice your leaves on a scrap board or canvas.
Try different brushes. Clean the brush with a rag each time before re-loading it. Do not clean the brush in water or solvent till you have finished the leaves. Use a dark color and a pale color to practice. (Burnt Umber and White is OK) Look at the pattern of leaves. Keep your colors separated and crispy. You can paint fern trees, palm trees, willow trees as well as painting scrub and bushes. How to Paint Leaves on Trees. Near you the leaves are full of color,

as you move away the leaves fade into the color of the sky or distant horizon. Paint wet-on-wet or allow your painting to dry at any stage.
Paints should all be of the same viscosity, thick paint will sometimes not come off your brush over an undercoat of thinner paint, the brush will pick-up the thinner paint rather than putting the thick paint down – oil paint can sometimes be too thick to come off your brush when 'dabbing', acrylic paint is usually OK.
This tutorial video will show you exactly how to paint leaves on trees with the wet on wet, loose technique.
This is a three and a half minute tutorial, an 80 minute Tutorial DVD 'Chinny and the River' is available at SHOP