How to Paint A Jacaranda Tree
The jacaranda tree color can be cobalt violet.
Jacaranda trees are lovely to paint and we often see jacarandas in country lanes.
The urban lanes around Mullumbimby are a picture on their own.
With their rustic buildings and colorful vegetation growing behind and over the garden fences they are easy to paint.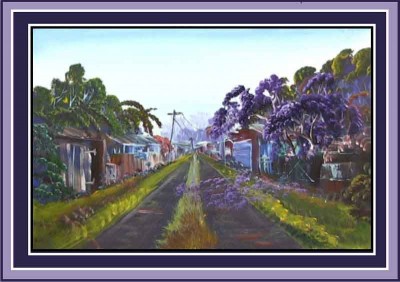 The fact that everything seems to be aligned with the one point helps us to keep the perspective and arrangement tidy.
You can make this scene up as you go so don't try to follow my every brushstroke.
Watch the full lesson here for free
Here is a bit of fun with this simple arrangement that lets you use your imagination to produce an attractive painting of a lane.
Any medium can be used, oil, acrylic, water color, pencil, crayon.
You should make your arrangement up as you go, starting from the center of the painting and working out.
We finish up with a lesson on how to paint a jacaranda tree.
Keep your sky pale, you will see that by drawing the diagonals on your canvas you have guidelines as the focal point is right in the middle of the canvas.
Do try to keep your brush strokes small and pale in the distance.
If you run out of ideas for buildings to fill in the spaces, paint trees in different colors but keep your brightest colors for the foreground.
This may be painted in oils or acrylics or colored pencil if you wish.
Watch this video of how to paint a country lane and how to paint a jacaranda tree.
You may Comment below.