Practice the Techniques of Loose Painting
Improve your painting technique.
Learn to free your hand with this loose painting technique.
These loose painting techniques are for those who wish to learn how to paint loose and for those who have a fear of making mistakes when painting.
Any medium can be used, oil, acrylic, water color, pencil, crayon.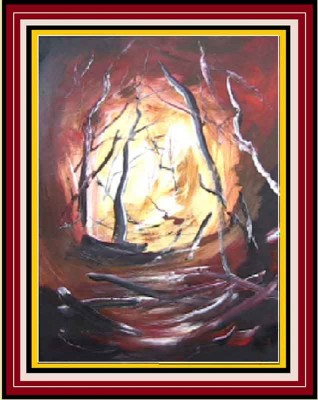 Loosen Up and Paint
We let the brush do the work, and we are making it up as we go with no definite expectations of what your painting will look like when finished.
There are a few rules.
Here are the few rules for this loose painting.
Do not leave little bits of canvas uncovered as we do not go back over our work.
Try to put the paint down in one stroke without over brushing.
Keep the middle of the painting bright and the outside dark, that means wiping your brush clean before picking up paint each time.
And relax.
You may paint in oils or acrylics, or do a background in acrylics and the top coat in oils.
If you have plenty of paint and a few sheets of primed hardboard or Masonite, you can have a lovely time painting these paintings of 'nothing'.
They look great sometimes and sometimes you will need to prime over them and start again, but the whole idea is for you to learn how to paint loose and use bold brush strokes.
Remember, you must clean your brush and re-load it correctly.
You may Comment below.