Paint a Mountain Scene
How to paint a mountain scene.
You can learn to paint a mountain scene in oils or acrylics.
How to paint a mountain scene – beginners painting in oils or acrylic.
The colors we use to paint this mountain scene are white, burnt umber, cobalt blue, burnt sienna, crimson, warm yellow, Indian yellow, raw sienna, veridian green.
Blending the colors to get the desired tones is an important skill which you can learn while painting these mountains. We do not need to be exact with our blending but we need to be sure our mountains are paler when further in the distance, that is important.
The demonstration painting shown on the tutorial is 14×10 inches (350x250mm) acrylic on canvas.
You can paint this scene any size.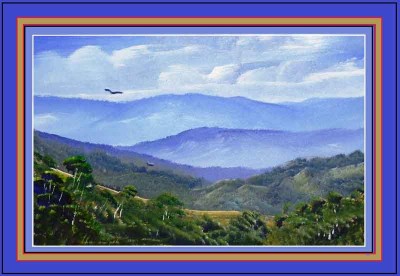 Do not try to copy my arrangement exactly. Try to paint a similar arrangement taking advantage of the 'making it up as you go' attitude.
Leave the good brushstrokes while covering the not so good brushstrokes.
A few things to be careful with when painting mountains.
Do not dip the mountains down at the edge of the painting because this will attract the eye off the picture.
As mountains come towards you they generally change tones from blue to purple to grey then the greens can be seen.
Do not have a grey or purple mountain behind a blue mountain.
Do not make the mountains look like saw teeth, mountains look better if they are similar but different shapes.
Try not to make the mountains too high, let them overlap the sky paint and the background trees will come up to overlap the mountains slightly.
Also remember the distant mountains are smaller to the eye.
Start low with the first brushstroke.
It is a good idea to start your mountains low so you can move them up as you correct them.
With the trees, load your brush correctly and look closely at the paint on the brush to see if it's in position to produce a light and dark effect with the first dab.
You may only get three dabs before you need to wipe it clean and reload.
So do not expect to have crisp looking foliage when using a dirty brush or muddy paint.
Always start with the distant mountains first so you can overlap them as you paint, that way you need to concentrate only on the top line of the mountain.
Take your time and enjoy.