Paint Outback Ranges
Paint the colors of outback Australia.
A lesson showing how to paint outback ranges in oils or acrylics.
Let us learn how to paint outback ranges, you can them make up your own arrangements with the few items in this painting exercise.(sky, mountains, grass, trees and a log)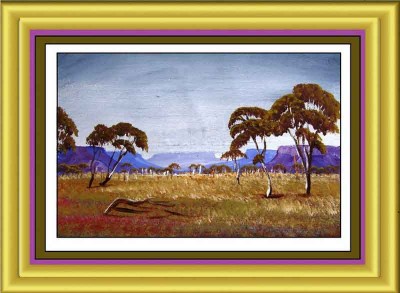 Any medium can be used, oil, acrylic, water color, pencil, crayon.
While traveling through the North West region of Australia you get the feeling you are on a dried up sea bed, the repetitive mountains go on and on for hundreds of kilometers.
The mountains are flat-top and are all the same height while the semi-desert floor is flat. (In my painting the horizon at ground level is slightly curved over – a bit much I think)
Well known in this area are the blue and purple tones we see in the mountains.
In this painting, my sky is mono-color (Indigo and White).
You may wish to spend more time on the sky as I have rushed through and left some dark streaks near the middle. – The actual color of the sky in this part of Australia can be a very deep, clear Cerulean Blue, fading to the horizon, clouds are rare. When painting your sky, ensure you have a white area along the horizon.
Keep the horizons low on the painting as this will give you more sky and a greater feeling of wide open spaces. – Do not try and copy my painting exactly, use it as a reference. – The short tutorial video lesson showing how to paint outback ranges.
Tips – the tops of the distant mountains are lower than the closer mountains.
Has a low horizon line so you see the mountains below the nearby trees and not through the top of the nearby trees.
You may Comment below.