How to Paint a Gold Mine Scene
A loose painting lesson.
Use the wet on wet loose painting techniques to paint a gold mine.
Work from the center out and try not to go back over your brush strokes
Any medium can be used with all lessons, oil, acrylic, water color, pencil, crayon.
Use your favorite flat brush and cover the canvas without leaving any little blank spots.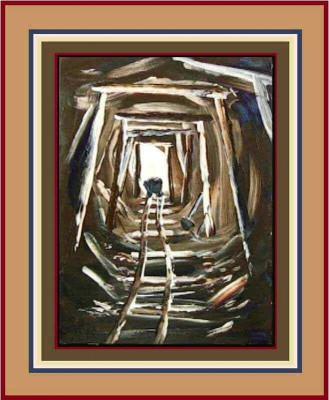 Let us loosen up and paint a gold mine. This is a fun painting exercise which will help you learn to load and unload the brush with deliberate strokes.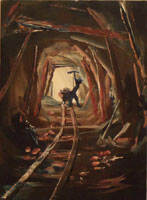 Here is two other examples of the scene which I think are a better painting. Click on the image. You should try to make your own painting up as you go along.If you are using oil paints, thin the paint slightly so it will flow off the brush.
Wipe your brush before picking up paint, wipe it by squeezing and pulling it through a rag, this will make the brush form a chisel point with which you can pick up dark on one side and light on the other. Make sure you load the very tip of the brush.
Keep your colors separated on the palette, do not let them get muddy. Take your time and try for the dark tones in the foreground without any white drifting into your dark paint. This painting is about 10×12 inches; you may use any size board or canvas.
By learning how to paint loose you will to be able to use the same brush strokes for painting many objects, small sheds with small brush strokes and big sheds with big brush strokes. It is all a matter of learning the skills and mistakes are a part of learning.
You may Comment below.