Painting Knife Techniques for Beginners
How to paint a bridge with painting knife techniques.
Painting knife techniques are great for painting fine lines.
Any medium can be used, oil, acrylic, water color, pencil, crayon.
In the exercise we paint a bridge in a sunset using the painting knife to gives us the thin lines of the bridge.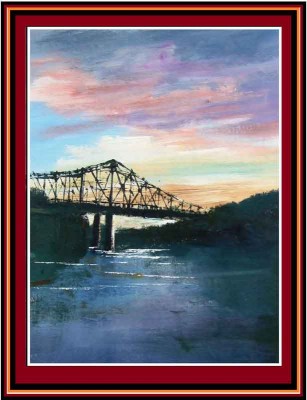 These are great painting knife techniques for beginners and the thin lines can be useful on many other paintings.
The sunset and the water with reflections are painted in first, then over the top, we paint the bridge using our painting knife techniques.
Keep the bridge and the trees dark in tone so as to show a lot of contrast with the sky behind. Do not allow white paint to become mixed with the darker tones.
After painting the bridge we add the foliage over the ends on the bridge and adjust the perspective while looking for any mistakes that might catch the viewers eye. In this exercise it is a good idea not to try too hard to produce a perfect bridge but try to learn the painting knife tricks.
You may wish to practice this bridge painting a few times and learn by your mistakes.
The scene can be painted in oil or acrylics, the example is painted in acrylics.
Also it is not important to follow my example exactly,
You may paint a simple sky but do try for the high contrast.
You may Comment below.