Paint Rugged Mountains in Color
Paint rugged mountains, work from the pale background to the darkest foreground with 2 sets of colors.
This reminds me of the Grose Valley, NSW Australia.
With this painting of a gorge, we use two palettes.
Any medium can be used, oil, acrylic, water color, pencil, crayon.
First work with your cool tones in the background, then with a new palette we paint in the foreground.
Do not use any background colors in the foreground (except white), this way we create a lot of distance in our landscape.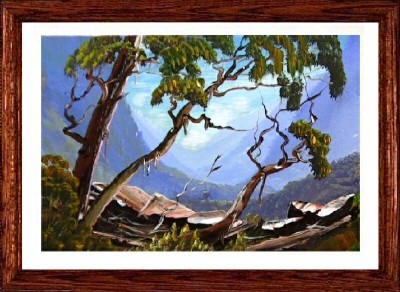 You may paint in oils or acrylics, it is the same techniques. Remember to clean the painting knife before picking up your colors and keep your colors crispy in the foreground.
If you are painting in oils, make sure your paint is all of the one consistency. That is, do not try to paint with thick paint over a thinner, wet undercoat. The paint will not come off the brush but will pick up the thinner paint off the board.
Acrylic paint is usually of the right creamy consistency. This Tutorial video will show you how to paint rugged mountains in color.
You may Comment below.