Start Painting Thin Lines in Oils or Acrylics
Start Painting Branches With Step by Step Tuition On Video.
Thin lines can be difficult and slow to paint so start painting here with this easy lesson.
This is a technique for painting thin lines in oils or acrylics with a fine brush.
Easy to Follow Painting lesson.
This simple lesson will help you to learn to paint fine lines for branches.
Here also, you will see how painting a white sky at the bottom and darker at the top, because keeping the horizon low and level can add depth to the scene.
Take your time and improve your painting skills
Watch the short video here for free, relax and start painting this simple picture in one color and white.
See how easy it is to paint with simple instructions.
No previous painting experience required
The colors for this monochrome painting – Burnt Umber and White.
One color and white is called monochrome or monocolor:- By painting a few pictures in monochrome you will quickly learn to use the brush without becoming confused with color.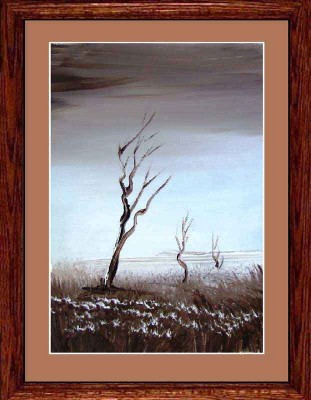 We also learn how the different tones give us depth in our paintings.
Watch here for free – or DOWNLOAD for $2. –
Buy Now
Brushes
To start painting you will need a few brushes (about 1/2 inch wide flat hog bristle brush, fan brush, little fine soft hair brush), some white and dark paint, an art board or canvas (or anything you can find), cleaning rags and somewhere to relax and paint.
Here the things you need to try and do.
Keep your lower sky with and background white
Keep your corners dark
Ensure your two colors a slightly thinned to the same consistently before loading the little brush for the fine lines
Look closely at the paint on the brush to see that is is well loaded with lots of paint.
Practice the branches on the palette or on spare canvas
Hold the brush with one finger and thumb for branches
Put the tree off center in your painting
Paint in Oils or Acrylics. (or any paint)
This is a simple painting. It is intended to show you how to use the tools (brushes)
You will also see how we create distance in a painting by keeping the background very pale and the foreground dark
The bigger tree in the foreground also gives us a feeling of near and far with the little tree being the far tree
Do try and use the little brush with finger and thumb only when painting fine branches, this is a skill you will need for later paintings
You should be ensuring that your brush is being wiped clean and loaded properly when picking up paint each time.
Beginner Painter?
If you are intending to seriously learn to paint, read the 'How to Be An Artist' pages
– Visit the TIPS PAGE
You may Comment below.