How to Paint Snow Capped Peaks in Oil or Acrylic
A very simple technique to paint snow capped peaks and gain depth to the painting.
A lesson showing how to paint snow capped peaks.
The method of painting natural looking snowy mountains is to keep the sunshine showing on one side of the mountains and shadow on the other side.
If you think about where you are putting the different tones of the white paint you will have greater success.
Do not let the sunshine and shadow tones mix.
The snow is either in the sunlight or not in the sunlight.
Mix two tones of the white snow, one can be pure white (or a very little bit of yellow added) and the other needs to have a very little bit of blue mixed into it.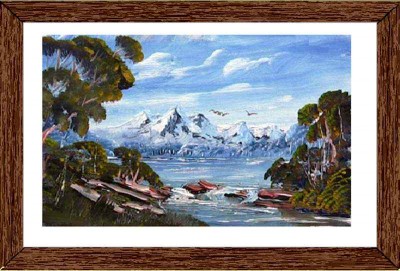 The blue should be mixed well into the white so we do not get any white streaks in the shadowed areas.
Follow the tutorial video and try not to let your foreground colors get into your background.
There are a few mistakes I see people make here and so try to avoid.
1 having your mountains too high.
2 painting the mountains all the same shape.
3 painting the mountains so they look pyramids.
4 having your mountains drop off at the side of the painting.
5 putting one big mountain right in the center.
This is a learning exercise for beginners with Australian gum trees, however you might like to paint in the pine shaped trees trees similar to the Bob Ross paintings.
The colors we use are not technically correct for a perfectly natural looking painting but the final result is usually an eye catching scene that is easy to paint in oil or acrylic.
You may Comment below.