Paint Sunlight Beaming in a Forest
Painting the sun light beaming through a forest is not difficult.
You can paint sunlight beaming lesson in oils or acrylic.
Don't paint the background too bright.
Let the background be a bit dull and blurred.
Take your time and try to complete the bright leaves on the forest floor before finishing the tree trunks.
Have very thick tree trunks in the foreground to give depth to the painting.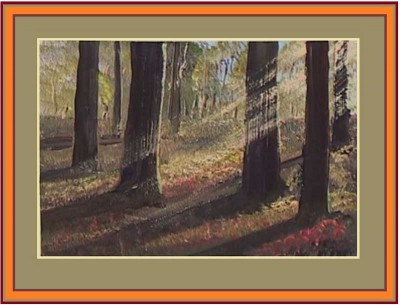 It is a good idea to block the tree trunks into place while the under paint is still wet, this will ensure your trunks are flat and not bumpy like the texture of the forest floor.
The tree trunks can be detailed later.
The colors for this sunlight in a forest painting are White (titanium white for oils), Cobalt blue, Crimson, Raw Sienna, Burnt Sienna, Bright Red and Warm Yellow (or cadmium)
As we work through this 'paint sunlight beaming' painting we need to go back over our leaves on the ground and adjust the brightness and darkness so as to give us the contrast between the sunlit and shadowed areas.
And adjust the sunlit areas to correspond with where the tree shadows will fall.
As we work do not worry about getting the bright leaf colors onto your tree trunks but do brush the tree trunks up and down to make sure they have the right texture before the paint dries – we detail the tree trunks after our leaves on the ground are finished.
If you have difficulty brushing lightly and straight when you paint sunlight beaming then you might lay your painting face up and drag the brush without applying pressure.
Do try and keep everything dull in tone except the sunlight beaming and the sunlight on the leaves.
You may Comment below.