Paint a Sunrise
Painting lesson of sunrise and ocean.
How to Paint a Sunrise in Acrylic or Oils.
An easy to follow short tutorial video with down to earth instructions.
Any medium can be used, oil, acrylic, water color, pencil, crayon.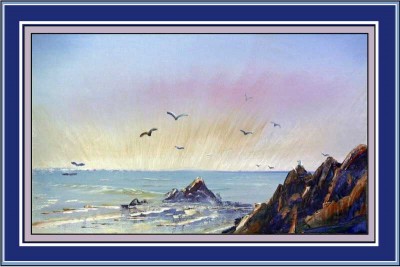 Get into the habit of cleaning your brush with a rag every time before you pick up paint.
When learning how to paint it is important to keep cleaning your big brush.
Do not clean your brush in fluid unless you really need to but pull the brush through a rag while squeezing the rag onto the bristles.
When painting the sky there is some to remember. We are making it up as we go therefore we do not have preconceived ideas about exactly how the sunrise will look, just put the paint on and let the sunrise evolve.
The important thing is to have a brilliant area in the lower middle of the sky and darker corners.
You may wish to paint many little sunrises to get your hand free and the paint flowing without worrying about making mistakes.
You can often paint your sky then make up an arrangement by blocking in the area where your sky does not look so good, then detail the blocked in areas with rocks or foliage.
You may Comment below.